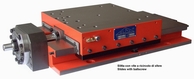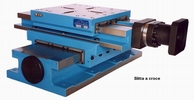 Description
Our slides can be mounted in both vertical and horizontal positions, making them universally adaptable to any operation with any type of equipment. They are available in pneumatic, hydraulic and mechanical versions. When ordering a slide, the operating position shou/d be specified. If this is not done, we assume that the slides will be used in horizontal application, and will ship the horizonta/ version. All our slides are made from dose grain cast iron, with induction hardened and ground slide ways. As standard equipment, all our slides come with a 3 contact switch mounted on the base. As an option, we can supply a rapid advance fine feed valve as an integra/ part of our slides, in which case the slide will be supplied with a 2 contact switch. The following additional options are availab/e on slides type UIT:

Ballscrew (rolled or ground).

Motor mounting blocks to your specifications.

Antifriction material on slide surfaces.

Telescoping waycovers (metal).

Hole pattern in saddle to your specifications.